Resident Evil: 10 Scariest Moments In The Series
Getting through zombies and mutations: A look back at the most scary parts of the Resident Evil game series.
When you play any of the games in the Resident Evil series, you always feel a rush of excitement. Mindless zombies don't seem so scary sometimes, but that's only until you've seen the mangled, virus-infected creatures that Capcom calls zombies.
From the first game in the series to the most recent ones, the designs and mechanics of the monsters have changed over time, always meeting or exceeding the standards of horror gamers. But gamers have to worry about more than just the dead. By making changes to the RE Engine, Capcom has been able to create terrifying settings, dangerous situations, and a very macabre look that all come together to make a huge nightmare.
Resident Evil 4: Playing As Ashley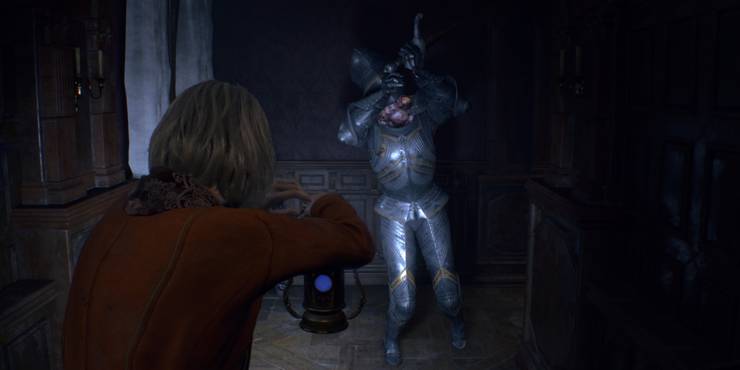 In the Resident Evil 4 Remake, when you play as Ashley, you'll find a small treat. The Ashley sequence tasks have been changed to make them harder and more complicated. As the Armadura enemies get closer, your anxiety will go through the roof. With only one blue lamplight, you have to plan how to temporarily stop the knight-armored monsters from moving.
Sneaking past multiple enemies becomes the best way to win, which changes the way the game is played in a big way. When you don't have normal weapons, puzzles and stealth become more important. This makes the game more tense and forces you to think quickly in order to beat your enemies.
Resident Evil 4: Verdugo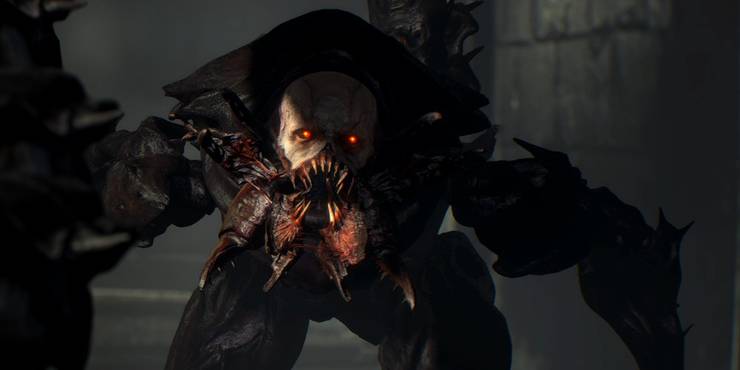 In the Resident Evil 4 Remake, the chilling remake of the frozen horror known as Verdugo will stay in players' minds for a long time. When Leon goes into the ice room, he sees a sudden and intense cutscene that shows the monster's scary march through the many freezer rooms.
The threatening red color and first-person view make the threat seem even more real. The scene looks like a scary scene right out of the movie Alien, with the creature crawling through the ceiling vents like an alien monster. Verdugo's constant pursuit, which is similar to the speed of the prototype Regenerators, makes every meeting a heart-pounding race to stay alive.
Resident Evil 7: Marguerite Boss Fight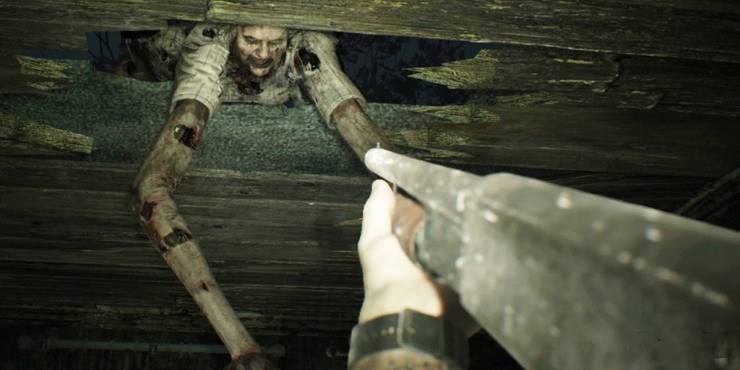 Marguerite turns out to be one of the most annoying and dangerous enemies in the crazy Baker family. The virus in her brain speeds up her change into a hideous spider-like person, which makes her bigger and stronger. When Ethan Winters faces off against this huge monster, Marguerite's threats add to the horror of the situation.
Her loud presence and the hard work of cutting off her limbs make the desperate feeling even stronger. The boss fight with Marguerite is like a never-ending battle against a powerful, mutant enemy. It makes you feel very uneasy and scared.
Resident Evil 7: Mia Reunion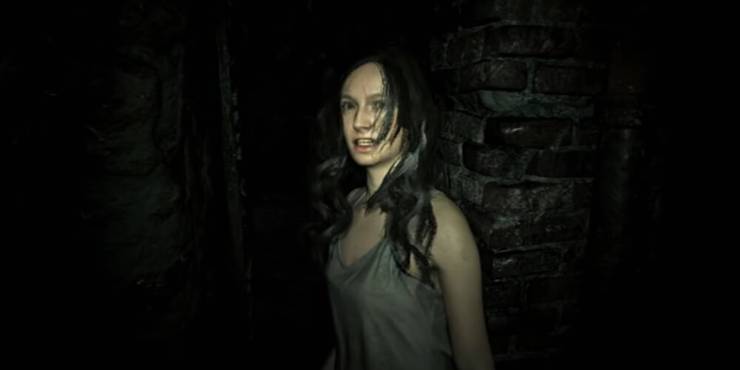 When Ethan shows up at the house, there's a cloud of mystery, and Mia's urgent warning to stay away adds to it. As they look around the scary house, they get more and more excited until Mia shows up and sets off a flood of unpleasant feelings. Ethan is desperate and worried at the same time as he wants to know what's going on.
After that, Mia has more scary encounters, but the scariest one is when her skin color changes and she becomes possessed. Ethan has to defend himself from several strikes while begging for his life. When he sees Mia's horrifying face and finds out he has to go on a dangerous journey to save his possessed girlfriend, the situation becomes even more terrifying.
Resident Evil 4 – Remake: Regenerators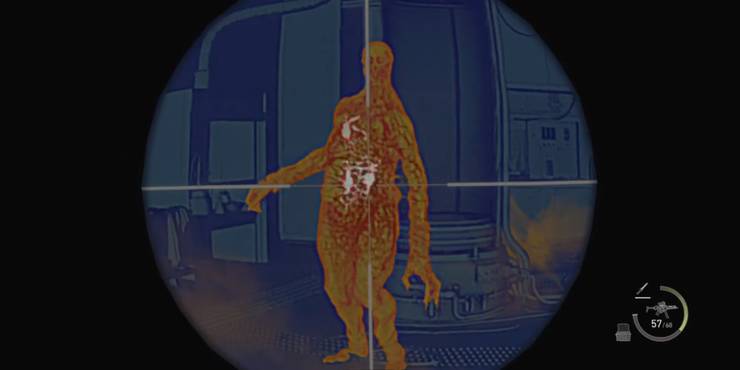 In the Resident Evil 4 Remake, Capcom brings back the Regenerators, one of the most scary enemies in the series. These scary, tall, and deformed creatures can't be hurt by gunfire or grenades, so Leon has to use a bioscope weapon to find their weak spots and kill them. Their presence was scary because of the way their heavy, unsettling breaths echoed through the air.
The thing that really scared players was finding out that Regenerators could now run, which made them a lot more dangerous. Seeing their glowing eyes as they closed or hearing their strange, uneven breathing gave players a deep feeling of unease and made them feel scared as a group. Just seeing the Regenerators makes Leon say out loud what we all thought: "What the f*** are you!?"
Resident Evil 7: Jack Baker Encounters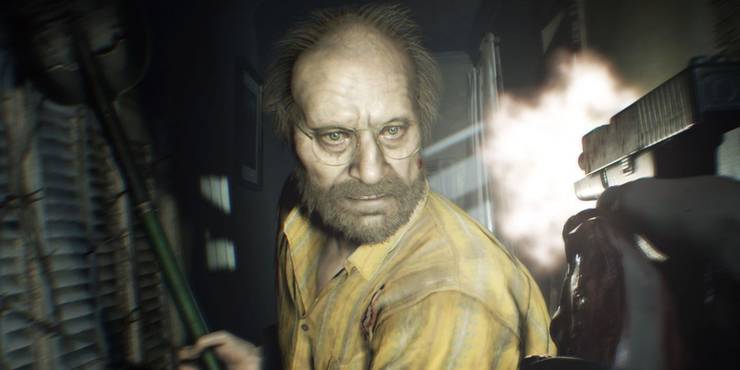 In Resident Evil 7, the constant pursuit of Jack Baker is another scary and difficult thing to do. After a disturbing family dinner and what seemed like a friendly first meeting, Jack becomes a constant presence, hiding in the living room to make sure Ethan doesn't get away. This situation makes people angry because they have to hurry through a house while Jack teases them from behind.
As the head of the Baker family, he is proud of his changes and goes to great lengths to show that he will catch up to Ethan. Every time they see Jack, they feel more afraid because of his taunting comments and unpredictable behavior. They are always afraid of being trapped and beaten.
Resident Evil 2 – Remake: Mr. X Chase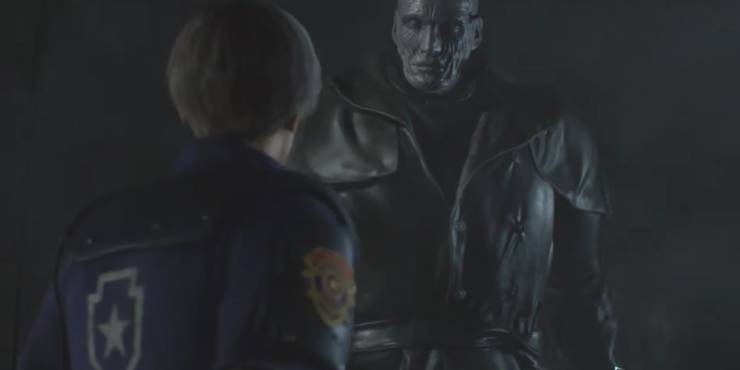 One of the best things about Resident Evil 2 Remake is how Mr. X, a powerful bioweapon, keeps following you around. This giant humanoid keeps following Leon and Claire, breaking through doors to get to them and leaving a path of destruction in his wake. Even when he stops walking for a moment, his presence is still there, making it feel like he could strike at any time and from anywhere.
The unpredictable movements of Mr. X, unlike specific scripted encounters, keep players on edge throughout Penalty Kick Online as they try to avoid this scary threat that can't be stopped with regular weapons. Trying to get away from the big bioweapon is scary, and the music that plays in the background adds to the feeling of approaching doom.
Resident Evil 7: The Clancy Jarvis Tapes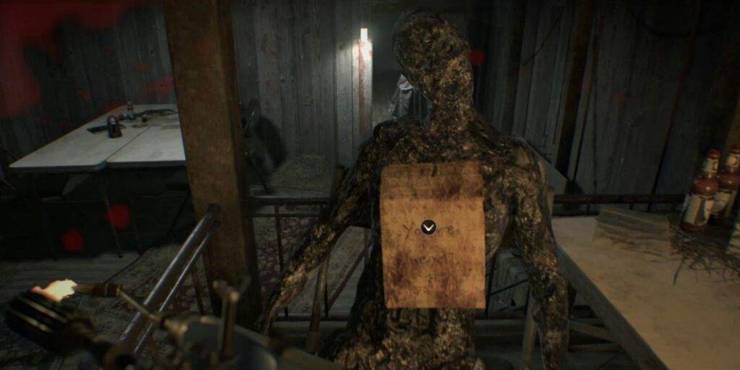 Clancy Jarvis is one of the unlucky people who end up being held captive by the Baker family. The videotapes of Clancy's suffering in the house are very upsetting and put viewers in his desperate fight to stay alive. When Ethan finds these tapes and Clancy's boiled body all over the house, he learns things that help him get through the dangerous home and the Bakers' deadly traps.
Notably, the VR Demo for PlayStation that came out in 2016 brought players to a whole new level of horror. The immersive experience made the horror even scarier, which made it possible for the full game to be released in VR.
Resident Evil 7: Beyond the Basement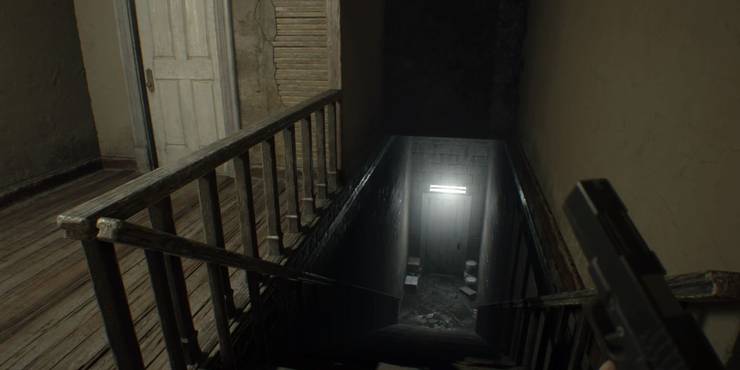 After constantly following Jack Baker, players come across a save place they've seen before, but this time there's a scary basement nearby. The flickering light above the door gives off a dying glow, making it clear that the stairs going down lead to darkness. In any horror game, a basement is a bad sign, but this basement makes the fear even worse.
The fall into the depths takes players through scary places like a morgue and an engine room, which have a creepy atmosphere with black mold and strange sounds. Unexpectedly, bizarre black goo-like beasts that used to be people come out of the walls and attack Ethan as Jack Baker moves closer, setting up another scary fight.
Resident Evil 8: House Beneviento Baby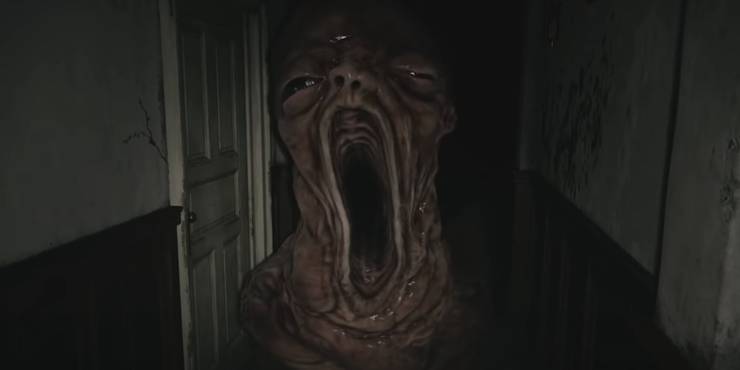 When Ethan goes looking for his daughter Rose, he comes across House Beneviento, which is run by the strange Donna Beneviento and her creepy doll, Angie. As Ethan gets closer to the house, he sees ghostly images of his wife Mia and daughter, which warn him of the horrors inside. Once Ethan gets inside, he finds himself trapped, without any weapons, and facing a number of hard tasks.
One of these obstacles is a giant baby that looks like an alien and crawls through the hallways with its umbilical cord hanging behind it. When this horrible thing shows Ethan pictures of his loved ones, it becomes the last thing players want to face. The baby's high-pitched cries and the red lighting in the house make for a deeply unsettling experience that makes players feel like they are in a completely terrifying place.