15 Best Games That Allow You Sail Your Ship
Here are the best games that let you sail a ship, from being a swashbuckling pirate to a famous naval leader.
Since the first arcade games, video games have come a long way. Fight armies, explore places you can't even imagine, and dive into the lives of people in worlds that are getting more and more real.
But a game that lets you sail the open seas from the deck of your ship is a wonder in and of itself. There are many games that let you sail your ship while having a unique journey. For example, you can play as a scary pirate or just try to make it through a storm by the skin of your teeth.
Sea Of Thieves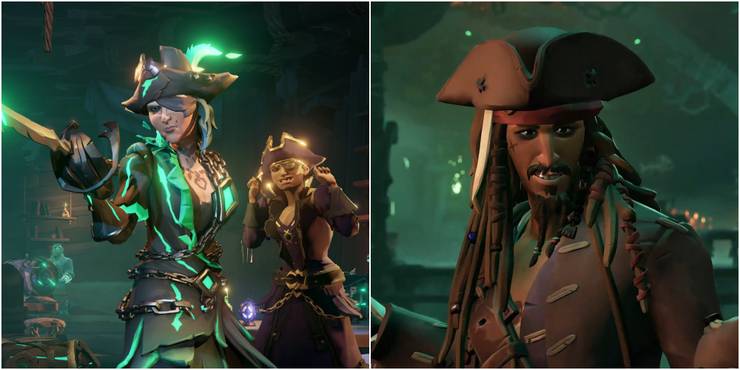 This open-world, online, action-adventure game, Sea of Thieves, gives you the chance to be a pirate and live the pirate life. You can sail the open seas with your team and fight other players' ships that are out to get you. Get the best weapons and beat the incredibly hard Skeleton Forts to get a Stronghold Key. With this key, you can get some amazing treasure.
The Tall Tales extra pack and a memorable crossover with Pirates of the Caribbean make this game stand out even more than it already does. And of course, when you're a pirate, it's your job to get as much booty as you can.
Sid Meier's Pirates!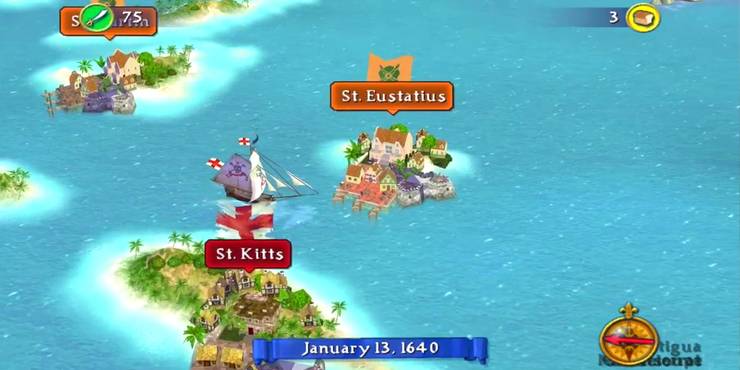 Sid Meier's Pirates! came out for the first time in 2004. It was made by the same company that made the Civilization series. In Pirates!, you're free to sail the high seas, go exploring, and get into pirate shenanigans.
You won't have as many ways to change your ship as you might like, but you'll spend most of your time traveling between the Caribbean Islands. Even though the game is quite old, it's worth playing because it makes you feel happy and warm.
Assassin's Creed Odyssey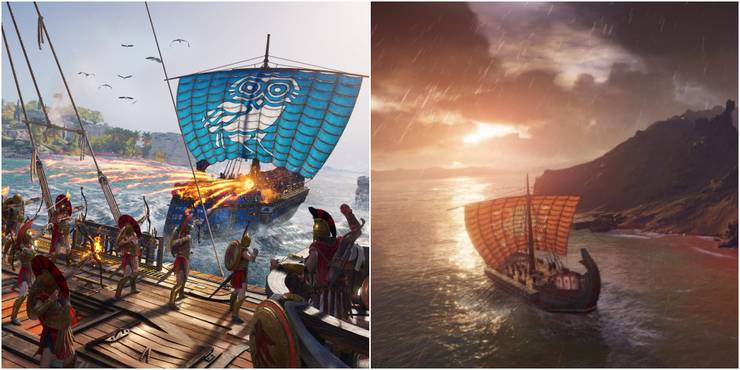 Since Assassin's Creed 3, which was the first game in the series where you could sail your own ship, the series has changed a lot. The sailing and naval fighting mechanics got better with each new game. Sailing was the main focus of Assassin's Creed 4, but it really came together in Assassin's Creed Odyssey.
With hundreds of Greek islands to discover and enemy ships to take out, the game lets you sail the beautiful blue waters of Naxos and fight in exciting naval battles. The only thing it's missing to really make the experience better are well-known sea monsters.
Valheim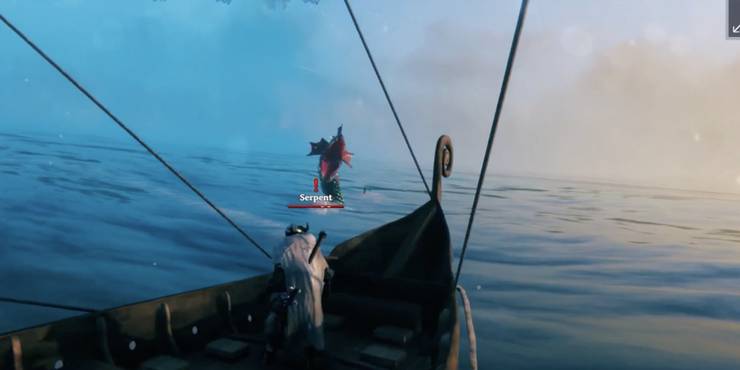 Valheim by Iron Gate Studio is a great survival game where you play as a Viking who just died in battle. The game is based on Norse mythology. The goal of the game is to show that you deserve to go to Valhalla as a great fighter who has won many battles.
Build a house and your own ship, then go to other biomes to fight the monsters that live there. Use your Viking longboat to sail through the ocean biome and kill scary sea serpents to show Odin how good you are at fighting. As you sail the monster-filled seas of Valheim, your afterlife will be one to remember.
Ship Handling Simulator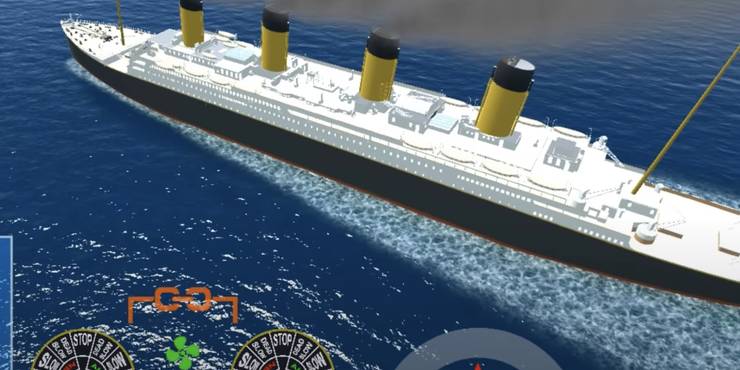 In this 2021 version of sailing simulator games, you can steer different ships around the open ocean and learn how to dock them correctly. In this game, it's a real task to keep your ship seaworthy and afloat, whether it's the size of the Titanic or your own private one-man yacht.
You have to deal with things like icebergs and stormy weather, and you also have to avoid hitting other ships. Ship Handling Simulator is just as hard and tricky as any other computer game.
Blackwake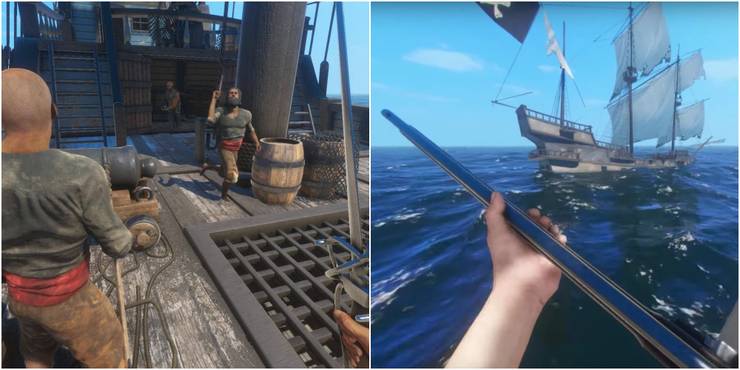 In Mastfire's Blackwake, a first-person multiplayer game, you can live the rough and tumble life of a pirate. The game is all about big ship fights and being the scariest pirate you can be. Find enemy ships to fight and steal from on the open seas with your pirate ship.
As a pirate who sails the seas, you can count on natural disasters and rainstorms, as well as ship repair. As you sail past rocky islands and take on Mother Nature, you and your pirate crew will try to take control of the seas.
Ultimate Admiral: Age Of Sail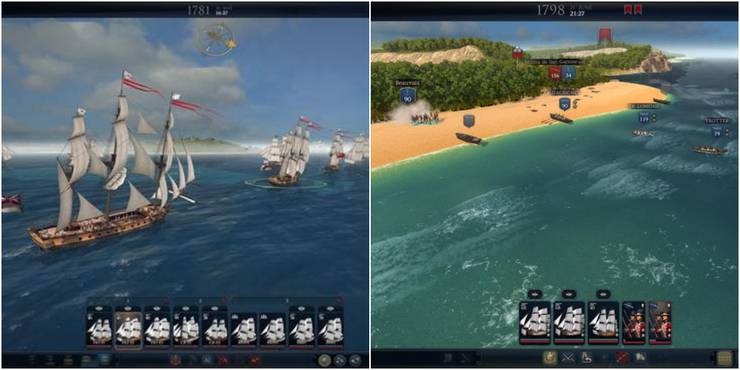 Ultimate Admiral: Age of Sail is one of the most realistic sailing games ever made. It puts you in the role of great naval commanders like Lord Nelson. You can choose to fight on the side of the British or the Americans. This lets you take part in famous battles and win wars.
The game's creators did a great job making it as realistic as possible by adding things like different wind plans for each ship. Even the direction of the wind and how it might change how much damage your hits do were taken into account. Ships that are true to history and have lots of details also help the makers reach their goal of realism.
Sea Dogs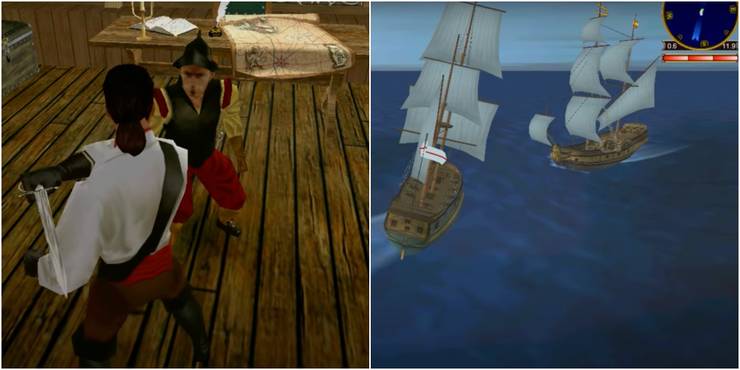 In this action-adventure RPG made in Russia, you play as Nicolas Sharp, whose father has been missing at sea since he was a kid. Nicolas grows to love the sea and the life of a sailor, and as soon as he's old enough, he goes to sea.
During your journey as Nicolas, you'll have the chance to work for France, England, or Spain, or you can choose to go your own way and become a pirate. Nicolas's story and his search for his father make for a seaworthy journey. There are a lot of different ship models and naval battle strategies to try out.
Furious Seas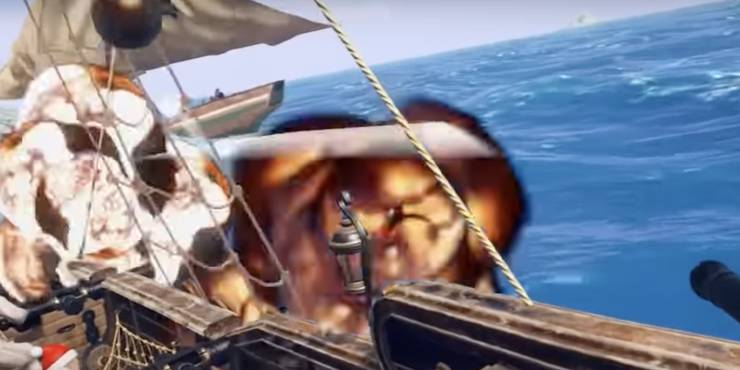 Furious Seas by Future Immersive is an action-packed first-person VR game where you can become a pirate with a reputation as bad as Blackbeard's. Shoot your cannons at enemy pirates or look for adventures and visit nearby islands.
In the game's Survival Mode, you compete against other players to be the King of the Seas who has never lost. To stay ahead of your enemies, you need to keep your ship in great shape and keep improving it.
From The Depths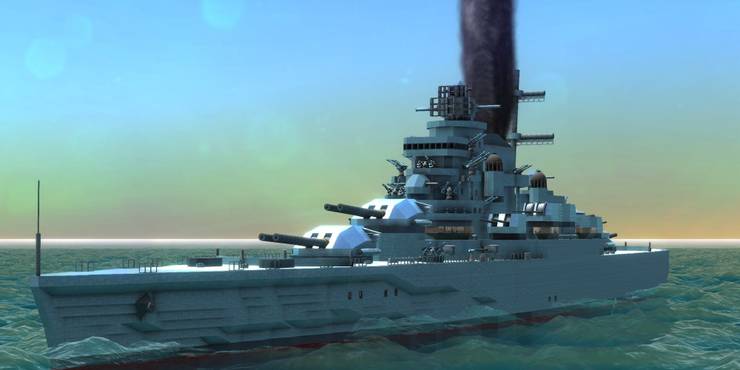 Someone mentioned warships? From the Depths is a war game that is a lot like a sandbox. You can build big warships and different types of land-based weapons of destruction. With more than a thousand parts, you can make any kind of ship you want.
If you want to use ships that have already been built, don't forget to look at the plans that people have made. Many people have made some really cool things that you should check out.
Maelstrom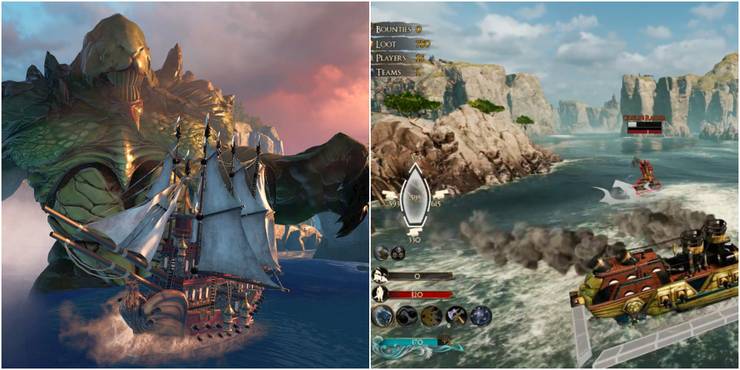 Maelstrom takes place in a made-up world full of sea monsters and other monsters. You can choose to be the captain of your ship as a Dwarf or an Orc, both of which are made-up races. Sail your ship around the Abyssal Ocean, a huge place full of huge creatures that keep you on your toes. This is mostly an online game.
Any kind of beast can show up at any time, so the best way to quickly improve your ship's defenses is to steal cash chests from other ships or unexplored islands. Even better, you can play this game for free on Steam.
Salt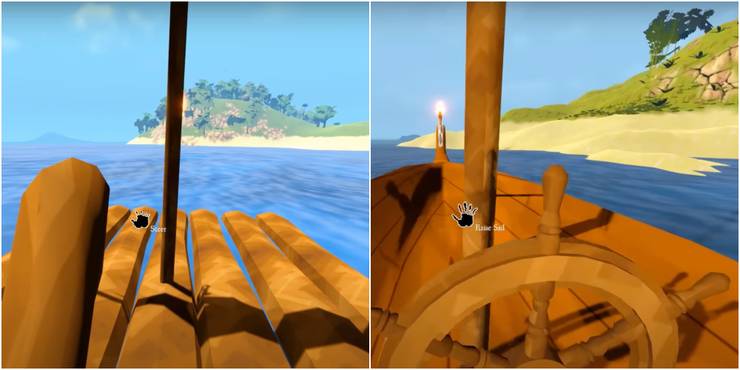 Eggy Car takes the idea of peace and quiet to a whole new level. One of the best parts of the game is taking your boat out on the sun-kissed, shimmering seas to look for uncharted lands.
Even though it doesn't have as much action as the other games in the series, Salt stands out as an open-world survival game that combines the peacefulness and beauty of nature with the hard life of an islander.
Black Desert Online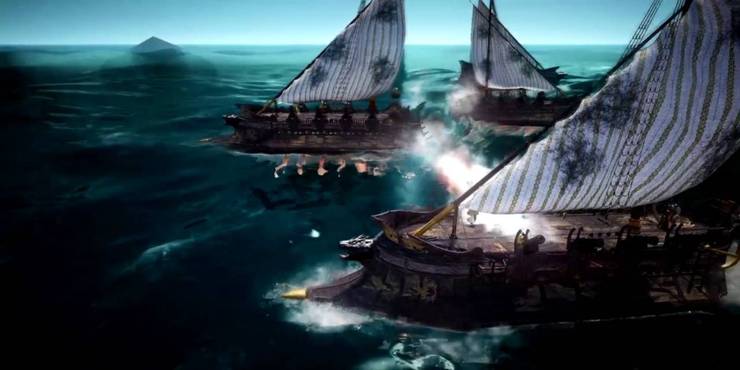 Black Desert Online is a sandbox MMORPG, which means you can do anything you want, like build an awesome ship. If you want to build ships in this game, you can go to a port city and get to work.
Here, you'll need to finish a few tasks and learn the basics of sailing. Before you know it, you'll be sailing on the open seas!
Sailwind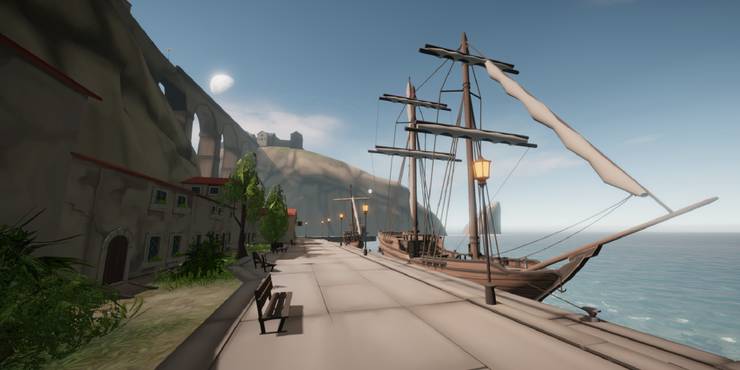 Looking for a nice simulation of sailing a ship? You should play Sailwind. This is basically a survival game that takes place on a ship. You can explore, fish, and even cook. You can make your ship look and feel like you with ship customization.
Sailwind moves slowly, just like a real ship at sea. There are some tense moments, but most of the time you just have to take care of your ship and stay on track while enjoying a relaxing trip. Overall, this is the best game to play by yourself to unwind.
Sea of Craft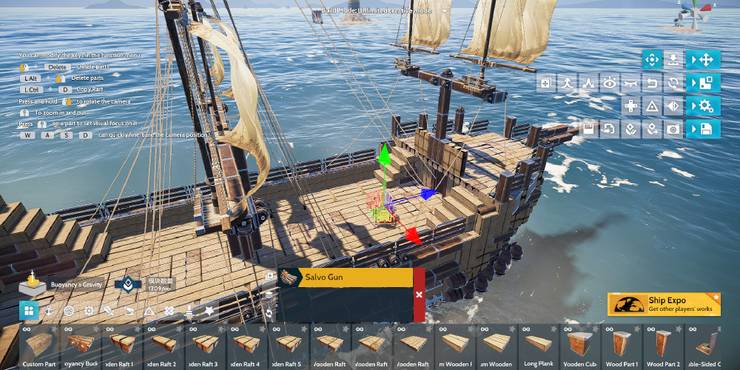 Sea of Craft is like Minecraft, but at sea. In this game, you start from scratch and build a ship. You can change it in any way you want. You can play through rounds and a simple story, but creative mode is where the real fun is.
In creative mode, you can make whatever you want. You can build the ship of your dreams, try out different styles, and make anything you want. As a "sandbox ocean-building game," you will also have to think about how real physics work.